The Cycling Gypsies of Rajasthan - a late night encounter in Mumbai
I was driving back from CST station after dropping off my son Rohan for his football camp and when I reached the Jogeshwari Vikhroli Link Road (JVLR) I saw ahead of me, 3-4 cyclists – not our normal cyclists these – they were riding the normal black BSA Hercules cycles that are ridden by most of the cyclists in India who ride because they cannot afford a more expensive vehicle.
They had no helmets, no fancy gear – and what made the sight the most stunning – was that the cycle held the entire family! Ridden by the man, his wife sat on the carrier behind holding a small baby in her arms, and a slightly older kid sat on the bar in front. On the back of their cycles a stick was tied with a small flag fluttering in the wind.
They were riding really fast, and I drove along for a while, amazed at the speed they were riding carrying all the weight. They finally took a halt at the beginning of the climb up Mahakali Hill, when I got a chance to stop and talk to them.
They were a group of gypsies from Rajasthan. Their home town is near Ajmer, and they have cycled from there to Mumbai. They cycle only at night, and cycle for up to 8 hours continuously on some days. They halt at any town or city to rest, and earn some money and then continue ahead
The only skills they have are to make small baubles and toys out of paper and cheap materials, and sell them on the streets. I was reminded of these kids I had photographed during our Independence Ride earlier this year. We just brush aside these kids as the "poor" and unfortunate but imagine the experience they must have, traveling all over the country with their parents
I asked them where they were headed and where they were coming from. They spent the day near a lake, presumably on the Thane Belapur road near Airoli, and were headed to Goregaon, but not sure exactly where. They planned to spend a few more days in Mumbai at various locations and then head back to Rajasthan. They claimed that they will cover the distance from Mumbai to Ajmer in about 10 days, cycling at night!
I offered to give them some money. The men initially refused but the eldest lady convinced them to accept the money and I gladly gave them some. They were really nice and friendly, and were a bit shy when I admired their cycling skills, saying they only cycle because they have to, and not by choice.
As I got back home, with lights decorating every house, the contrast between their life and mine was really stark. I was reflecting on how affluent cyclists like us would consider it to be a major achievement cycling from Mumbai to Rajasthan, while these people do it without considering it to be anything special.
Cycling has truly connected me to a different world around me.
Some Updates: Thanks to Nita and Deven for the tip that gypsies elsewhere in the world – especially the Romani gypsies in Europe – originated in Rajasthan.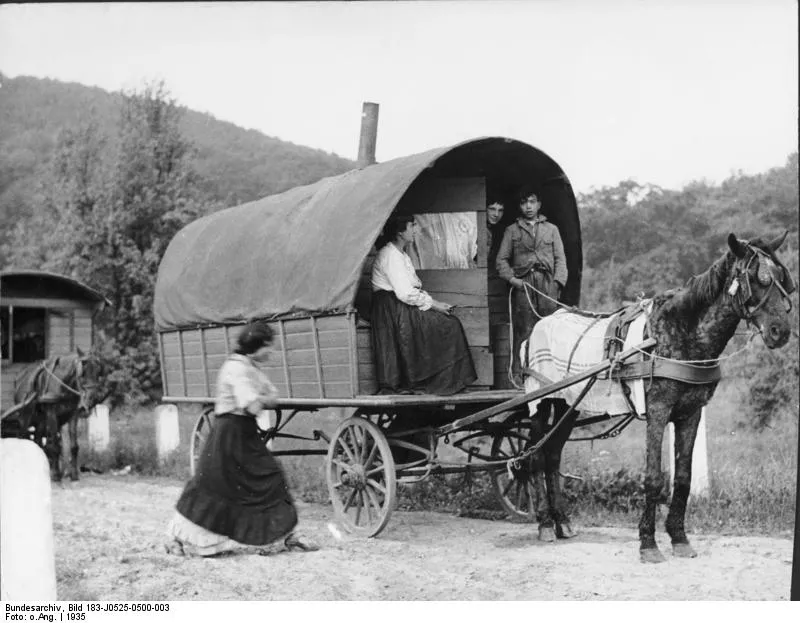 Romani with their wagon, photographed in the Rheinland of Germany in 1935 (Bundesarchiv, Bild 183-J0525-0500-003 / CC-BY-SA) (ref).
Here are some links giving further information about the origin of gypsies:
And here's an interesting video about the relationship between Rajasthani folk music and Spanish Flamenco: