Cycling to Ulwe Mangroves - Navi Mumbai
One of the most attractive natural phenomena that lines the coasts of Mumbai and the neighboring areas are the mangroves. Though they have been largely neglected and in many areas abused, there are fortunately still quite a few coastal areas that provide some rich biodiversity among the thriving mangroves.
My favorite Mangroves ride is surely the western coast from Uttan to Versova. This belt is separated from the mainland by the Manori and the Versova creeks that have delayed the spread of untethered development that has made the city a congested nightmare.
But in my quest for new routes, I explored out to a new area called Ulwe in Navi Mumbai and found some beautiful routes that one can cycle or just walk that are even more beautiful and untouched by development than the Uttan-Versova belt.
Here is the video journal of my ride:
This is the first time I'm trying out a voice over on the video. I find it really funny to hear my own voice. Please do write in the comments if you prefer my old photo blog format, or if the video is better.
And this is the route map and the special points of interest:
Ride Statistics:
Total Distance
100+ km
Total Duration
6 hours
Total Ride Time
4.5 hours
Coastal and Marine Biodiversity Centre, Airoli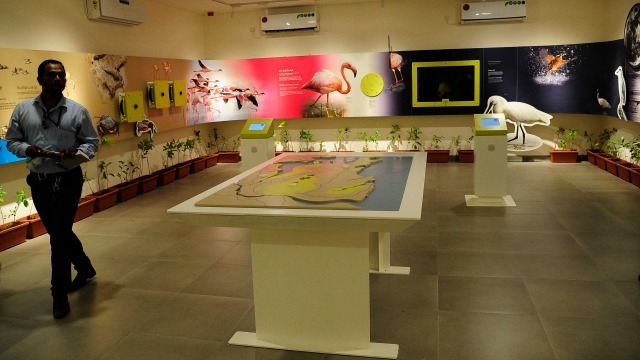 The Coastal and Marine Biodiversity Centre at Airoli that is situated just next to Airoli bridge is an Indo-German joint project. The mangroves are home to thousands of flamingos and other migratory wading birds. It is a haven for almost 200 species of resident as well as migratory birds, including rare Osprey and Greater Spotted Eagle.
In recognition of the ecological importance of this waterbody, the Maharashtra Government in 2015 has declared a wildlife sanctuary an area of 1,690 ha along the northern stretch of Thane Creek.
The newly opened 7,000-square-foot construction is the first phase of CMCB, which would provide information to visitors in unique ways. For instance, visitors can stand against a large wall and compare their height with some turtles. The other features of the information centre includes watching a 'turtle' lay eggs, smell mangroves, see what a crab looks like from all angles and hear what a bird sounds like while singing to attract a mate. All these can be experienced through multi-sensory and mechanical exhibits at the Airoli centre.